Just added her to my Etsy shop. click here to see her listing.
OOAK Fairy Art Doll. Her name Gianna. She is a 6″ pure sculpt doll. She is listed in my Etsy Shop.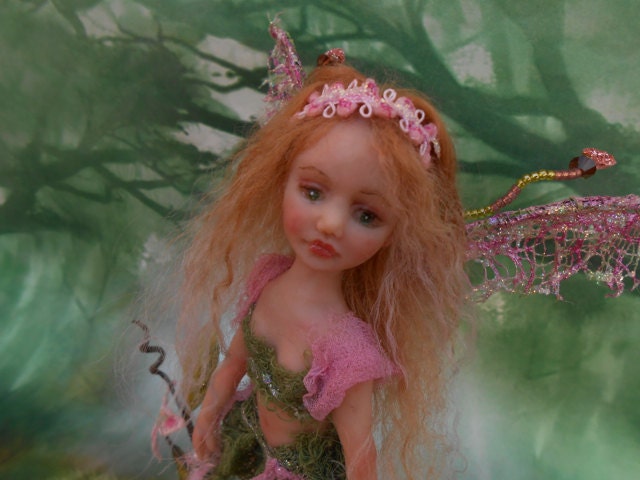 What a beautiful day it was today. I tend to want to spend much time outdoors enjoying the sunshine. I do most of my art work after dinner and into the wee hours of the night. This way I can enjoy the sunshine and get things done during the day. And while everyone sleeps I am up playing with fairies. 😉
Here is my latest little fairy creation! She is a sleeping fairy and rests atop a handmade pink silk pillow.
Purple was my mood for this fairy. With the recent Royal Wedding, I couldn't help but feel in the mood for purple. Purple is royalty. And all little girls love purple. I believe when I was young it was my favorite color.
Her name is Nymeria (prounounced "Ny-meer-ia"). She measures about 6 1/2 inches.

Her dress is hand dyed silk accented with sterling silver glitters and pretty feather weight ribbons. Her shoes are also dusted with sterling silver glitter. It i so hard not to get carried away with this sterling glitter. I just love it. It shines like white gold.
You can view more of her FLICKR photos here