Just added her to my Etsy shop. click here to see her listing.
OOAK Fairy Art Doll. Her name Gianna. She is a 6″ pure sculpt doll. She is listed in my Etsy Shop.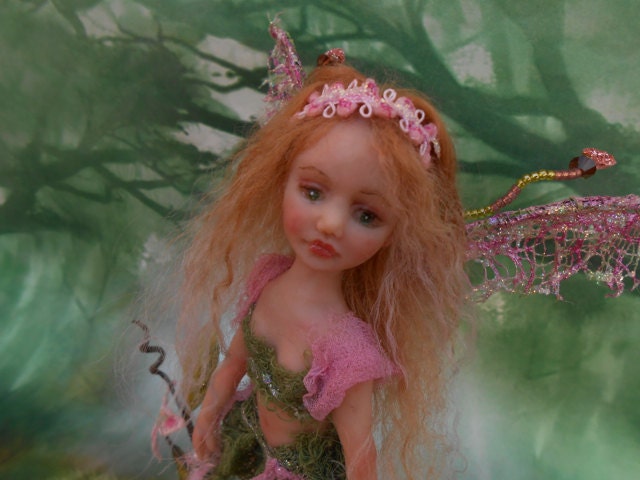 I have now been working with Paper Clay (Air Dry) for the month of December. I did quite a few holiday pieces and snowman. Now that I have a nice feel for air dry paper clay I decided to make a fairy using this clay. I thought a good idea to start small. I had in mind a vintage inspired petite fairy atop a gift box. I like decorating little boxes so this was a good plan. I wanted her to look vintage, shabby, and antique.
I used a wire armature with some foil as my the foundation. Then I added the clay. I am getting somewhat spoiled with the air dry clay because I like how you can hold the piece when it is dry and keep adding clay and refining it.
I spent 2 or 3 days sanding her however I wanted that vintage look so I left some areas more rough than other areas. I am going for a shabby vintage piece here!!
I couldn't wait to paint her. I mostly colored her with chalks on the bare clay. I then painted her eyes and shoes and then sealed her. After sealing her paint I then antiqued her and sealed again. When I antiqued her I left some areas mottled so she looks aged/vintage.
The box is paper mache and then inked. Accented around the box and the lid is gold Dresden stickers. The top of the box has pretty tiny pink flowers around her feet. Her little pink shoes have just the right amount of German glass glitter to make her shoes sparkle. She is mounted permanently to the box. She comes with a handmade gift tag that is made just for her.
I am very enthusiastic about air dry clay and I really like it. I just placed and order for a different type of air dry clay that is supposed to have an even harder finish. Paper Clay is very strong and standing sculptures are fabulous and so lightweight. I hope to make more petite vintage fairies when my clay arrives this week.
I just love how she turned out! She looks like she was loved by a sweet little girl many many memories ago.